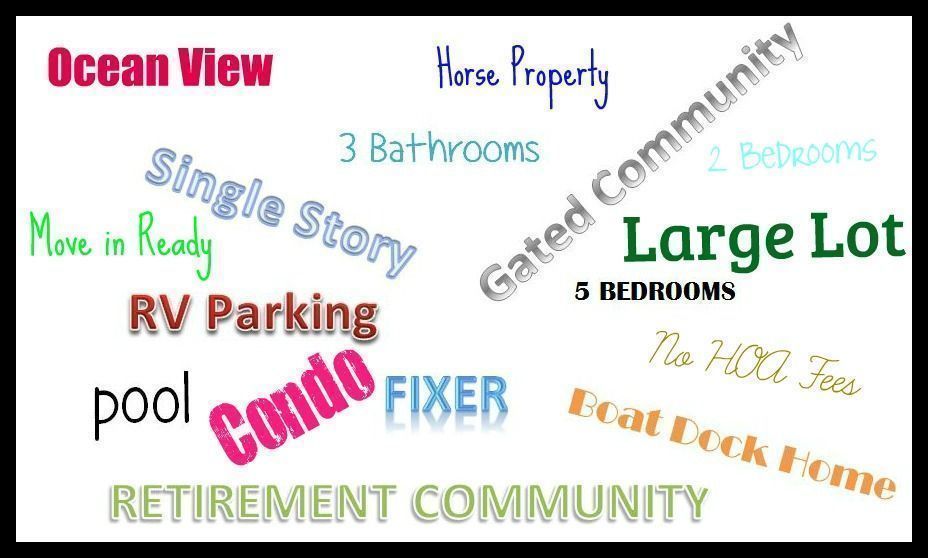 What Features of a home are you looking for?
It is important to know what one is looking for to narrow down the search. No home is going to meet every single one of the features of a home you may want, but you can prioritize the most important ones and go from there.
Single Family Home?
Condo or Townhome?
Manufactured Home?
Single Level, no stairs or doesn't it matter?
Retirement Community?
What about Schools
How many Bedrooms?
How many Baths?
Is a Family Room important?
What about a Dining Room?
Do you want a Kitchen that has been updated?
What about the Garage, attached, detached, 1 car, 2 cars or 3 cars?
Do you want space to park your RV?
Big Lot or Little Lot?
Pool?
Spa?
Tennis Courts?
Do you need Horse Property?
Gated Community or not so much?
Would you consider a PUD community?
Need a home with a Boat Dock?
How important are Views?
Fixer or one that has been remodeled?
What community do you want to call home?
Do you want Oceanfront?
Is having Freeway access close important to you?
Urban Location or Rural Location
Need to be close to a Hospital?
My experience has shown me that most home buyers know what they are looking for initially. This post is meant to dig a bit deeper. Buying a home is a big investment and I believe buyers should be as informed and clear about what they want in their next home so there are no regrets.
Let me know how I can assist you with your next home purchase?
Start your search for here for homes in Ventura County today to see what types of property are available, and then give me a call to discuss what your best options are and how I can help you get positioned to find the Home of your dreams.