Ventura Condo Price Report November 2016
Here is the Ventura Condo Price Report November 2016 to see how this segment of the Ventura Real Estate Market performed this month.
We will look at current Ventura Condo sales figures and compare these Condo sales figures to prior periods to get a sense of price trends.
I will use the term Condos, short for Condominiums. Here locally, we use the terms Condos and Townhomes interchangeably.  
Home buyers interested in downsizing to a more manageable low-maintenance home, as well, as those looking to begin their home ownership journey, will want to check out the Ventura Condo Price Report November 2016.  
The inventory of Ventura Condos on the market remains low, we have one more condo on the market than we did at the time of my report last month.
There are 38 Ventura Condos available for sale without accepted offers at the time of this writing.
When we look at the inventory numbers and the number of condos sold each month, we then can analyse if the Ventura Condo Market is a Buyer or Seller's Market.
The Ventura Condo Market definitely falls into a Seller's Market.
What a Seller's Market means generally is, if a condo is priced correctly according to recent market value comps, then it will be more difficult to negotiate a lower price since there will be more buyers than available condos to purchase. A supply and demand issue.
The Median price fell a bit by 2.61% from November 2015. It did however appreciated by 2.28% from what was cumulatively recorded for all of 2015.
The Median Sales Price is the point at which half of homes sold for more and half sold for less; it is influenced by the types of homes selling as well as a general change in values.
The Average Sales Price rose a bit by .94% from last November. It also appreciated by .40% from what was recorded cumulatively for all of 2015.
Overall, Ventura Condos are popular, inventory is tight and the overall Ventura Condo Market is appreciating and should continue to do so in the future at a modest rate of appreciation.
Below, one can see on the graph the sales statistics for the last six months.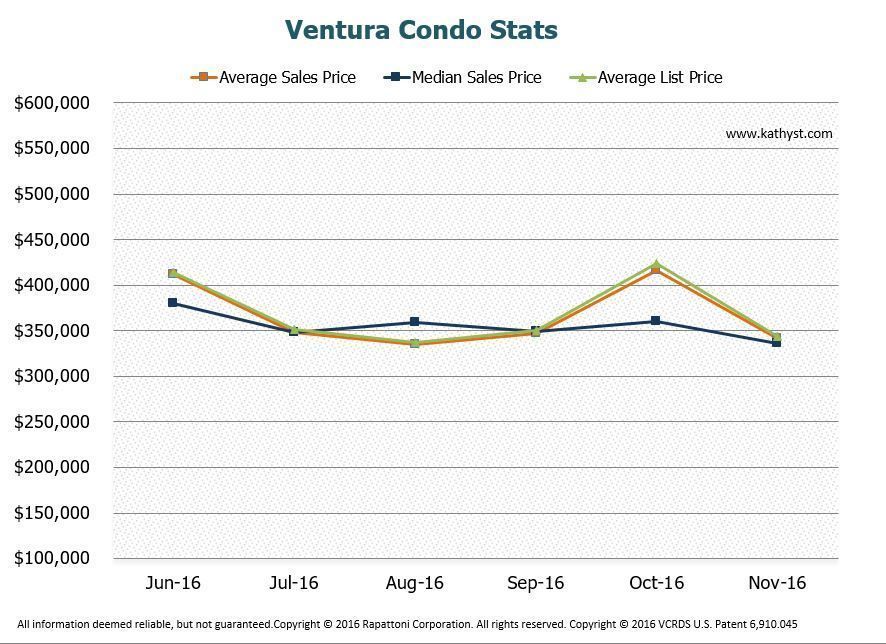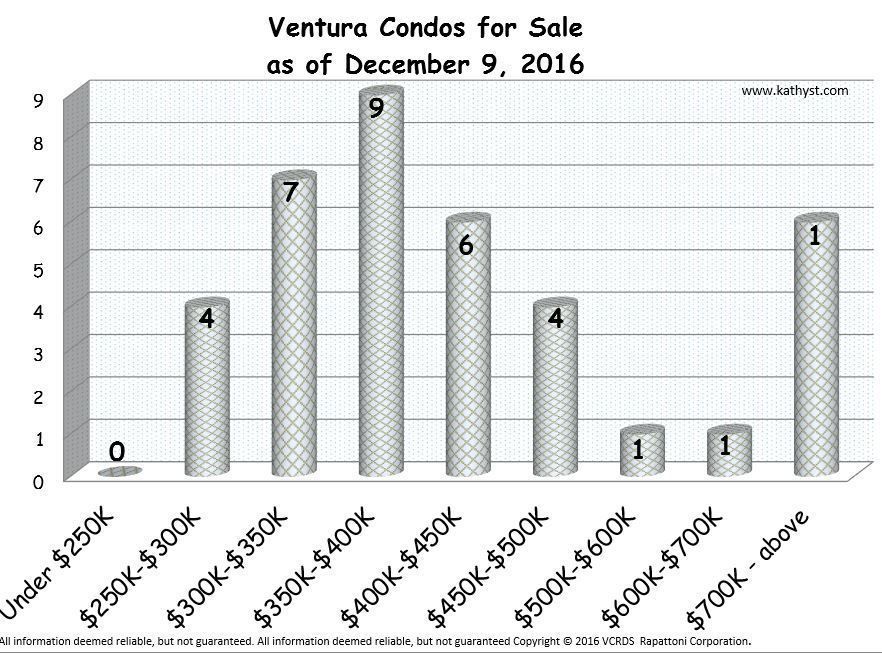 Above is an illustration of the current inventory of Ventura Condos.
A variety of types of Ventura Condos are available, from one story, two story, and several tri level models.
Want to be front and center on the ocean, check out Paseo De Playa, Pierpont Village, and Seaview Hills which has superior ocean views.  
Like to be near Downtown Ventura, then look at Park Row, Mission View, Paseo Del Mar or Sycamore Village.  
Looking for a central location within the city, then check out the newer Lennar Condos, the gated complex of Orchard Lane with single level Condos, the Weston Cape Regatta's, County Square Villas, just to name a few.
La Ventana, Riverview, Scandia Pines and Beacon Court, Nantucket Village, Cape Ventura and Cambria Village Condo Complexes are located in the east end of Ventura, near the new Sports park.
Here are links to Condos or Townhomes in Zip Codes:
How difficult will it be to find a Ventura Condo in the 2017?
Understanding the Ventura Condo Market is made a little more complex by not only the variety of inventory available, but by location, overall condition of the Condo itself and the Condo complex, ratio of renters to owners living in the Condos should also be a concern, to name just a few issues to be investigated.
To put your best foot forward when making an offer on a Ventura Condo, you will need to rely on the experience of a local agent who knows the market well and has experience navigating this unique market.  
Although not every property attracts multiple offers, many of them do, so when you find a Condo you want to make yours, you'll need to be not only ready, willing and able to buy, you'll quite often need to do it quickly.
Remember the first step in your search for a Condo to purchase is to speak to a lender if you need to finance a Condo purchase.
Start your search for Ventura Condos for Sale today!
Give me a call to discuss what your best options are and how I can help you get positioned to find the Ventura Condo of your dreams.
Thinking of selling your Ventura Condo?
Contact me and we can discuss whether this is a good time to sell your Condo.
When you entrust me with the listing & marketing of your Condo, your vote of confidence is very important to me.
Please be assured I will provide what I refer to as "Old-School" services, those of responsibility, communication and accountability… blended with today's most current and effective marketing technologies available, to get you results.
You and I share the same goal: Getting your home sold for the most the market will bear, in the shortest time possible, with little to no hassles along the way.
I am often ask about the Ventura Condo Market.
I hope this Ventura Condo Price Report November 2016 helps you to understand the current Ventura Condo Market.
About the author: The above Real Estate information about Ventura Condo Price Report November 2016 was provided by Kathy Stoltman.  
She can be reached by phone/text at 805-746-1793.  Kathy offers a wide range of real estate solutions for buyers, sellers and investors, attracting clients who demand excellence—in marketing, negotiations, market knowledge—and a genuine concern for their needs.
Kathy services all of Ventura County beautiful Cities: with an emphasis on Ventura, Oxnard, Camarillo and Ojai.