Let's look at the Oxnard Condo Price Report for February 2017 to see how this segment of the Oxnard Real Estate Market performed this month.
Condo buyers interested in downsizing to a more manageable, low-maintenance Condo, as well, as those looking to begin their Condo ownership journey, will want to check out the condos for sale in Oxnard.
I will use the term Condos, short for Condominiums. Here locally, we use the terms Condos and Townhomes interchangeably.
There were 27 Oxnard Condos sold in February, 2017 compared to 40 sold in the same month last year which is a decrease of 32.5% homes sold.
We can see from the illustration below that the February 2017 Average Oxnard Condo Prices inched up by 2.74% from last February.
The Oxnard Condo Price Report February 2017 also tells us that the Median Price went up slightly as well – 2.35% from what was recorded in February 2016.
The Median Sales Price is the point at which half of homes sold for more and half sold for less. This is influenced by the types of homes selling as well as a general change in values.
Below is a graph of the Oxnard Condo Market Activity for the last 6 months showing the list price, median sold price and average sold price.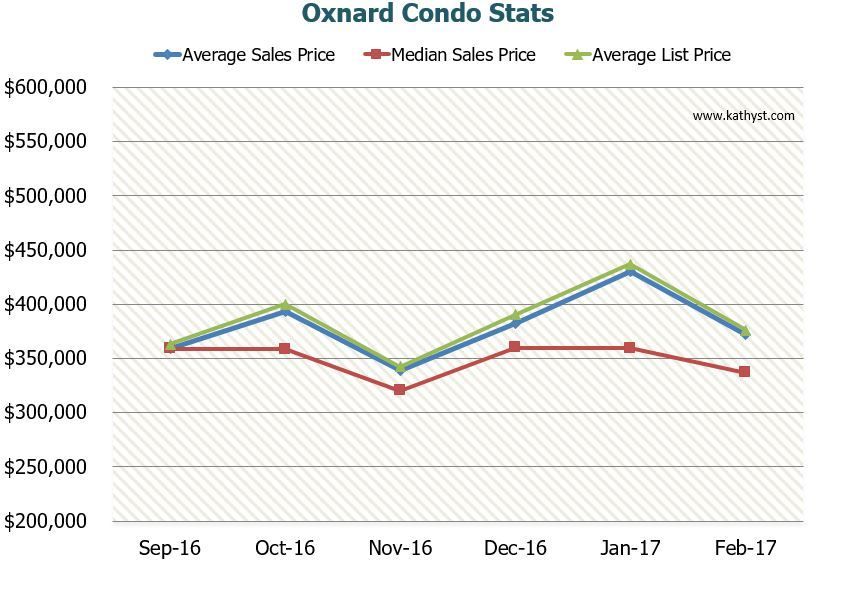 A variety of styles of Oxnard Condos are available, from one story, two story, and several tri level models.
Below is the graph of the current inventory of Oxnard Condos. Only those Condos that do not have accepted offers on them at the time of this writing are shown on this graph.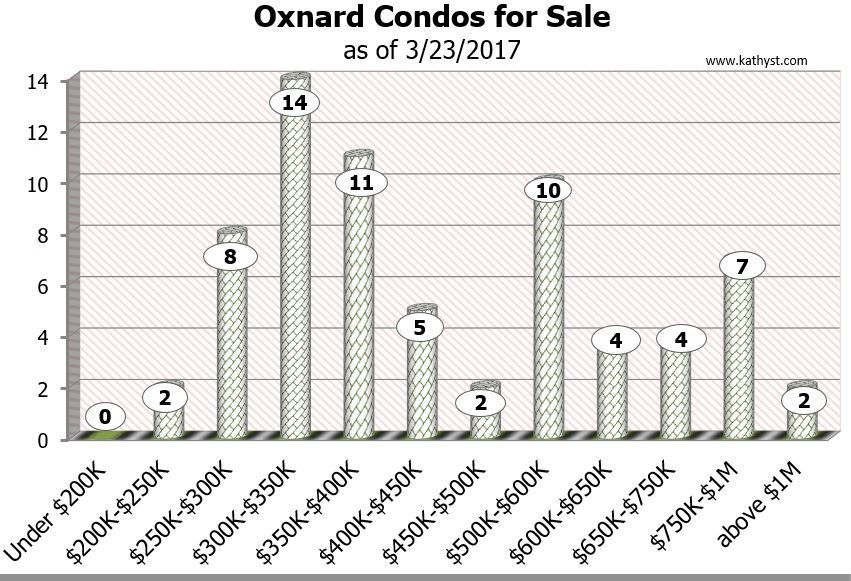 If you are ready to buy a Condo in the Oxnard Area, I am ready to assist you on the amazing journey! Every client experience is vastly different and I love the challenge that each one brings.
I do understand the importance of educating Condo buyers on the local Real Estate Market as well as Oxnard Condo Market, so you can make the best decision when purchasing an Oxnard Condo.
I work hard to ensure you understand what is happening at each and every stage. You can be rest assured that I will focus on your needs, negotiate a fair price on the Condo of your choice, and be there to hold your hand through closing and beyond.
Enter Your Text
Start your search for Oxnard Condo for Sale today to see what types of property are available.
Call me to discuss what your best options are and how I can help you get positioned to find the Oxnard Condo of your dreams.

Click Here!
Thinking of selling? I can help you.
Whether you're planning to sell your Condo in the next few months or just studying up for that eventuality, there's no time like now to prepare.
If buying a condo seems complicated, selling involves even more responsibilities and expenses.
Call today to find out how Kathy can help you get the most money the open market will bear for your Oxnard Condo.
I am often asked about the Oxnard Condo Market.  I hope you find this Oxnard Condo Price Report February 2017 helpful.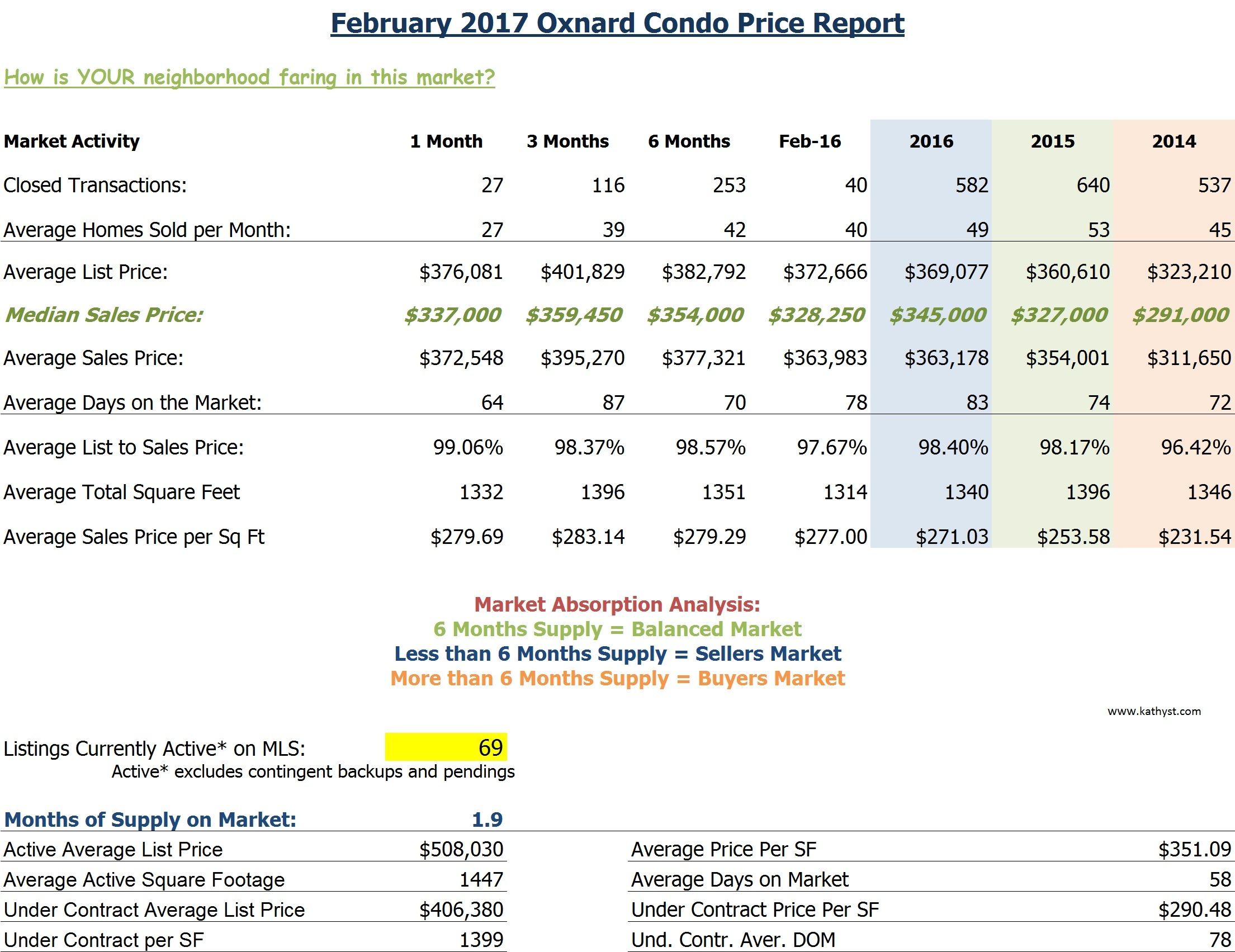 About the author: The above Real Estate information on The Oxnard Condo Price Report February 2017 was provided by Kathy Stoltman.
She can be reached by phone/text at 805-746-1793.  
Kathy offers a wide range of real estate solutions for buyers, sellers and investors, attracting clients who demand excellence—in marketing, negotiations, market knowledge—and a genuine concern for their needs.
Kathy services all of the Ventura County beautiful Cities: with an emphasis on Ventura, Oxnard, Camarillo & Ojai.
Statistics represent Oxnard Single Family Homes (Source: VCRDS) for the referenced month. Information (3/23/2017) is deemed reliable, but not guaranteed.