January 2019 Camarillo CA Four Bedroom Homes Real Estate Market Update
Four bedroom homes account for the largest segment of the Camarillo CA Real Estate Market, totaling about 47% of all homes for sale in this segment of the Camarillo Real Estate Market. Their versatility appeals to a wide range of buyers. A sample of these homes from the current inventory may be viewed in the showcase at the bottom of this page and clicking on the "View All Results" link just below that offers access to detailed listing data for the complete inventory, always updated and current.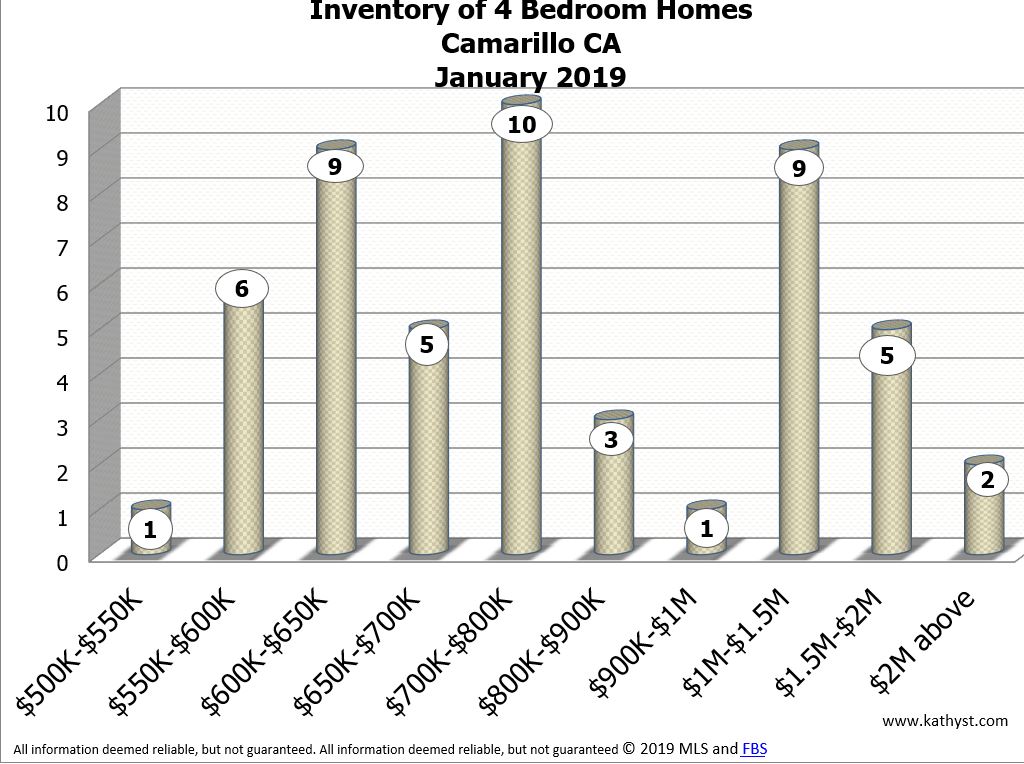 There are 51 Camarillo four bedroom homes currently on the market. Prices range from a low of $500,000 to a high of $3,750,000. 16 of these homes are 1-story ranches. There are another 30 Camarillo four bedroom homes under contract and waiting to close.
Camarillo four bedroom homes sold strongly during 2018 - there were 336 sales, priced from a low of $336,965 to a high of $3,750,000 with a median price of $715,000 and an average price of $841,111. Market performance was good, with the average days on the market coming in at 86. The sale price/list price ratio for these 336 homes was 99%, a sign of a strong seller's market and high buyer demand.
The inventory of Camarillo four bedroom homes is constantly changing, so if you would like to track what's happening with these homes, let me help. You'll be notified as soon as new listings are posted. And when you find a home you like, please give me a call - I'd be happy to schedule a showing for you at your convenience.
Camarillo Four Bedroom Homes
Below is a link to the inventory of Camarillo Four Bedroom Homes currently on the market.
View all Results!
About the author: The above January 2019 Camarillo Four Bedroom Homes Real Estate Market Report was provided by Kathy Stoltman.
Kathy can be reached Phone/text at 805-746-1793
Kathy offers a wide range of real estate solutions for buyers, sellers and investors. Providing excellence in marketing, negotiations, market knowledge and a genuine concern for their needs.
Kathy services all of Ventura County: with an emphasis on Ventura, Oxnard, Camarillo & Ojai.
Statistics represent Camarillo Four Bedroom Homes (Source: VCRDS) for the referenced month. Information (January 24, 2019 is deemed reliable, but not guaranteed.