This Ventura Housing Report March 2017 will show us how this segment of Ventura Real Estate performed for this month of 2017.
This Report will give us housing sale statistics for Single Family Homes only. We then can compare these sales figures to past periods to get a sense of how this segment of the Ventura Real Estate Market is performing overall.
From this data we can determine if it is still a Seller's Market or a Buyer's Market. All the data comes from what has been entered in the local Multiple Listing Service (MLS) only.
The Ventura Housing Price Report March 2017 only looks at Ventura Single Family Homes excluding the Beach Areas.
Ventura Housing Report March 2017 Data Breakdown
In March 2017, we see 65 Single Family Homes were sold. This is an increase of 12% from what was sold last March.
We see the Median Sales Price dipped by 1.10% from March 2016. However, it did rise by 2.37% from what was cumulatively recorded for the prior three months.
The Median Sales Price is the point at which half of homes sold for more and half sold for less. It's influenced by the types of homes selling as well as a general change in values.
The Average Sales Price slipped 2.33% compared to March 2016. And this benchmark showed a gain of 1.04% from what was cumulatively recorded for the prior three months.
Highest & Lowest Sold Ventura Single Family Homes in March
The lowest price home that sold in March 2017 was a two bedroom, one bath, 960 square foot home and the sales price was $371,000.
The highest price home sold for $1,675,000. This Hidden Valley Estate custom built home has four bedrooms and four full bathrooms and one half bathroom. It have spectacular views and a pool.
Ventura Single Family Homes Statistics for last 6 months
One can see the comparison over the last 6 months for Ventura Single Family Homes Average Sales Prices, Median Sales Prices and the Average List Price in the graph below.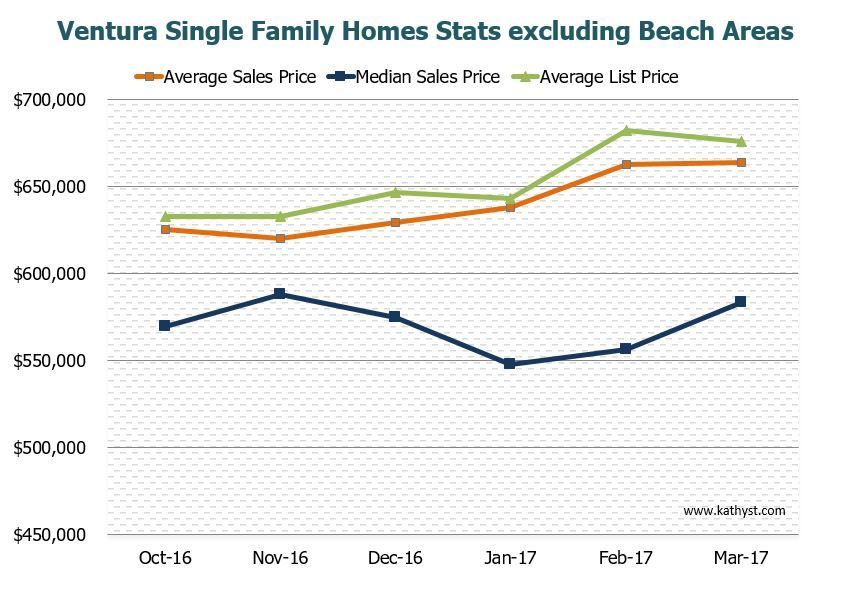 What about the inventory of Ventura Homes for Sale?
The current inventory  of Ventura Single Family Homes is 82 and that translates to a tad over a one month supply of inventory. This means that Ventura Single Family Homes falls within the category of a Seller's Market. This is by definition of the Market Absorption Analysis model.
The bulk of the Ventura Homes for Sale in Ventura is in the price range of $550K to $700K making up 28.75% of the 80 available homes on the market at the time of this writing. This price range may act a bit more like a Buyer's Market than a Seller's Market because of the number of homes available for Buyers to comparative shop in this price range.
The number of Ventura Single Family Homes that are for sale are shown below on the graph, broken down by price ranges. These are Ventura homes that do not have accepted offers on them.  This is the list as of this writing, to see the up to date list see Ventura Single Family Homes.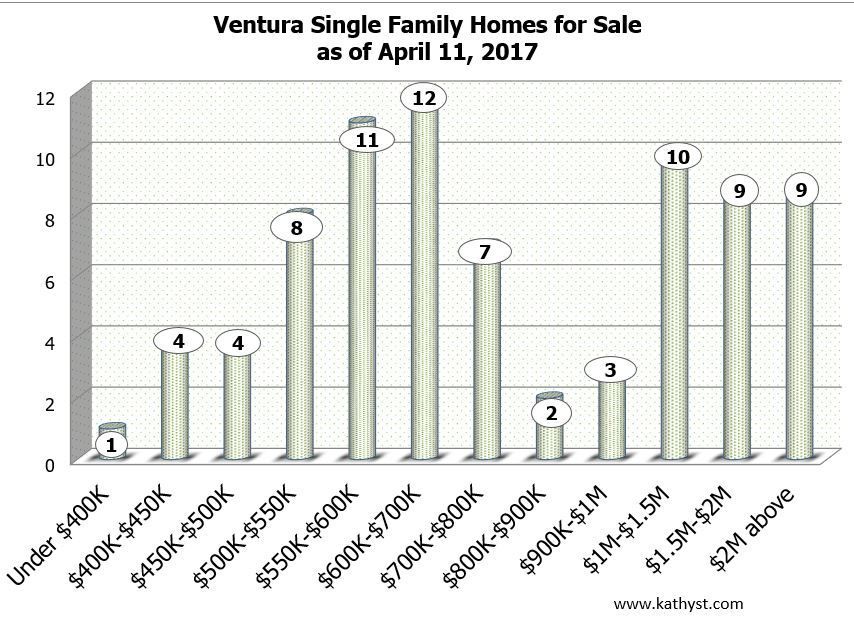 How difficult will it be to find a home in Ventura in 2017?  
As you can see, inventory of Ventura Single Family Homes is low. The inventory of homes in the price range under $400,000 price range has a rare sighting of one home at the timing of this report and the price range of $400,000 to $500,000 will be a very competitive market.
It is important to understand the local Real Estate Market when buying a home.
Here is some advice to put your best foot forward when making an offer on a Ventura Single Family Home. You will need to rely on the experience of a local agent who knows the market well and has experience navigating this unique market.
You need to have your finances in order. Have a pre-approval letter in hand or proof of where the money is coming from if you are going to pay cash for your new home.  Not every property attracts multiple offers, but many of them do. So when you find a home you want to make yours, you'll need to be not only ready, willing and able to buy, you'll need to do so fast.  
Enter Your Text
Start your search for Ventura Single Family Homes for Sale today to see what types of property are available. Then give me a call to discuss what your best options are and how I can help you get positioned to find the Ventura Home of your dreams.

Click Here!
Curious about the value of your Ventura home?
During this time of year, it's common for me to get questions about what's happening in the real estate market.
More specifically, many of my clients are curious about their home's value.
Whether you are thinking of making a move, or just want to see how much equity you've built up, let me know and I'll send you a professional estimate of your home's value.
You can use this estimate for planning your financial future, as well as your potential housing moves.
Just click on the button below  and I'd be happy to produce a report on your Ventura home's value.
Ventura Housing Report March 2017 
Summary for Single Family Homes
Average Sales Price:               $664,138

Median Sales Price:         

       $583,500

Number of Total Sales:                     

65

Average Days on Market:

                 73

Average SP/LP:                            98.23%
I am often asked about how the Ventura Housing Market is doing.
I hope you find the Ventura Housing Report March 2017 report  helpful!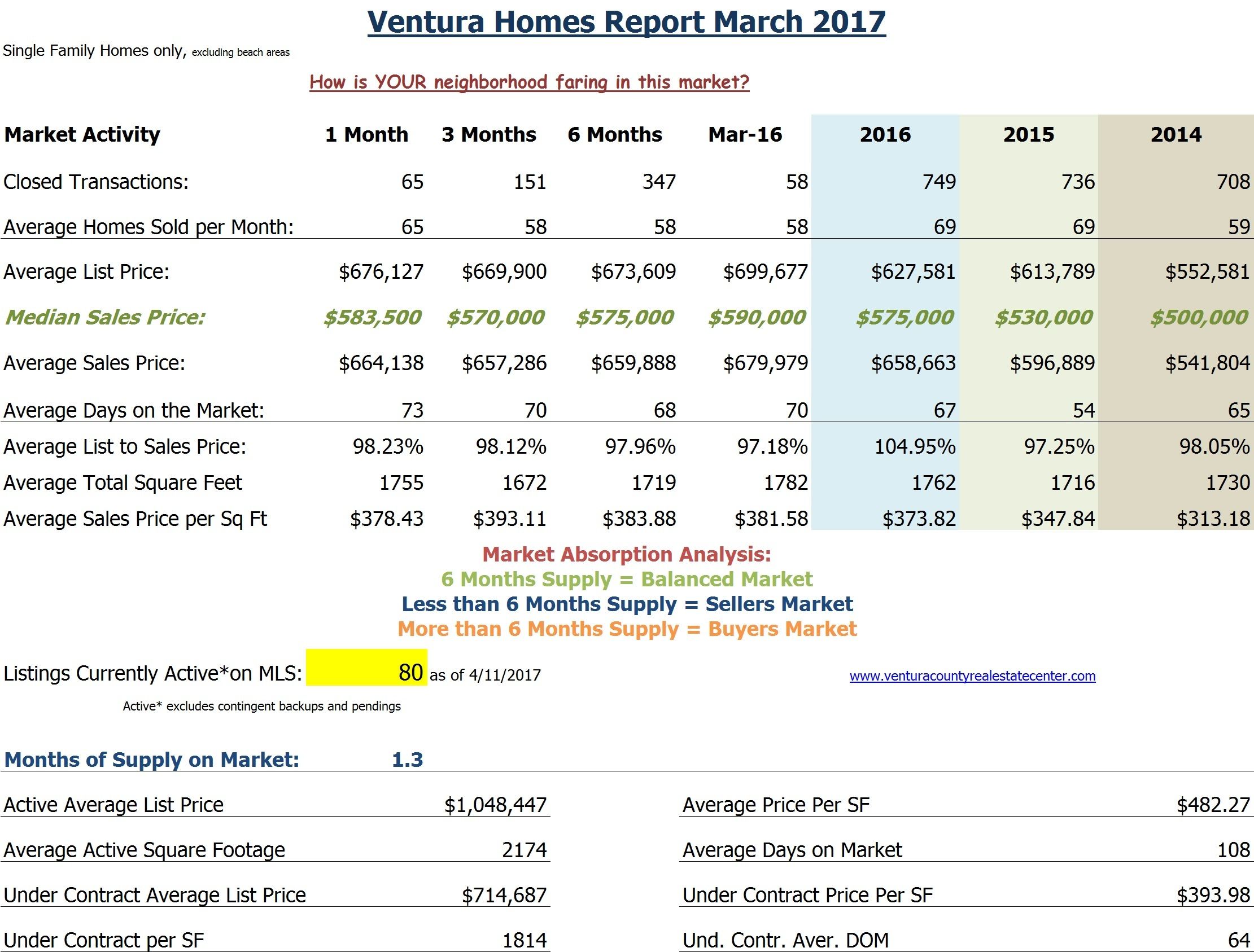 About the author: The above Real Estate information about Ventura Housing Report March 2017  was provided by Kathy Stoltman.
She can be reached by phone/text at 805-746-1793.  
Kathy offers a wide range of real estate solutions for buyers, sellers and investors, attracting clients who demand excellence—in marketing, negotiations, market knowledge—and a genuine concern for their needs.
Kathy services all of Ventura County beautiful Cities: with an emphasis on Ventura, Oxnard, Camarillo and Ojai.
Statistics represent Ventura Single Family Homes (Source: VCRDS) for the referenced month. Information (4/11/2017) is deemed reliable, but not guaranteed.