Let's take a look at the Camarillo Home Prices February 2017 Report to see how the Single Family Home segment of the Camarillo Real Estate Market has performed.
Camarillo Home Prices February 2017 Data Breakdown
The number of Camarillo Homes sold this February was up by 2 homes from last February or n increase of 6.25%.
The Camarillo Home Median Sales Price in February shows a jump of 3.68% from what was recorded a year ago, and shows no change from what was cumulatively recorded for all of 2016.
The Median Sales Price is the point at which half of homes sold for more and half sold for less; it is influenced by the types of homes selling as well as a general change in values.
The Camarillo Home Average Sales Price rose slightly by 1.25 this February compared to last February. This price point inched up a bit by .82% from what is recorded for all of 2016.
Ventura Single Family Homes Statistics for last 6 months
One can see the comparison over the last 6 months for Average Sales Prices, Median Sales Prices and the Average List Price in the graph below.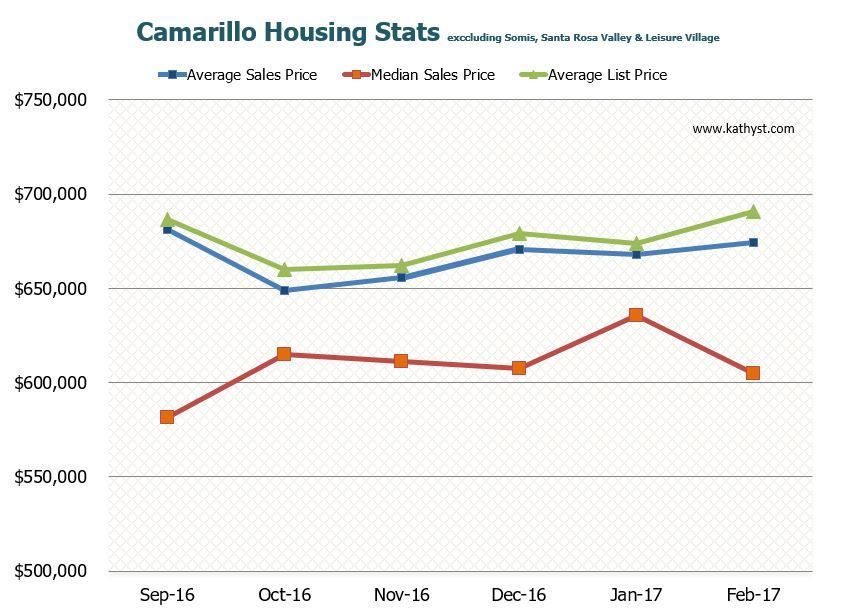 The inventory of Camarillo Single Family Homes remains low.  There are 70 Single Family Homes for sale in Camarillo. I am excluding from the count and this report, Leisure Village, Somis and Santa Rosa Valley Homes.
What all this translates to is just under a two month supply of inventory which by definition of the Market Absorption Analysis model would still put Camarillo Single Family Homes in a Sellers Market.
Analysis of the absorption rate is an estimate that is used to determine how long it would take to sell off the current inventory of properties if all conditions remain the same. It is significant to mention that this estimate does not take into consideration any additional properties that will come onto the market in the future.
We see that at the time of writing this post, that 25.71% of the 70 Camarillo Homes for Sale fall between the price range of $1,000,000 and $1,500,000.
This price range may not act like a Seller's Market because of the amount of homes that home buyers can choose from, it may in fact act very much like a Buyers Market.
Highest & Lowest Sold Camarillo Single Family Homes in February 2017
The least expensive Camarillo home that sold in February fetched $410,000. This home has three bedrooms and two baths. It is 1961 square feet in size and is a "cosmetic fixer".
The most expensive Camarillo Home sold in February sold for $1,230,000. This sprawling ranch home has four bedrooms and two full bathrooms  and two half baths. It comes in at 3972 square feet in size. This home has interior upgrades and has a beautiful pool as well as a putting green.
The breakdown of available Camarillo Single Family  Homes for sale is shown below on the graph.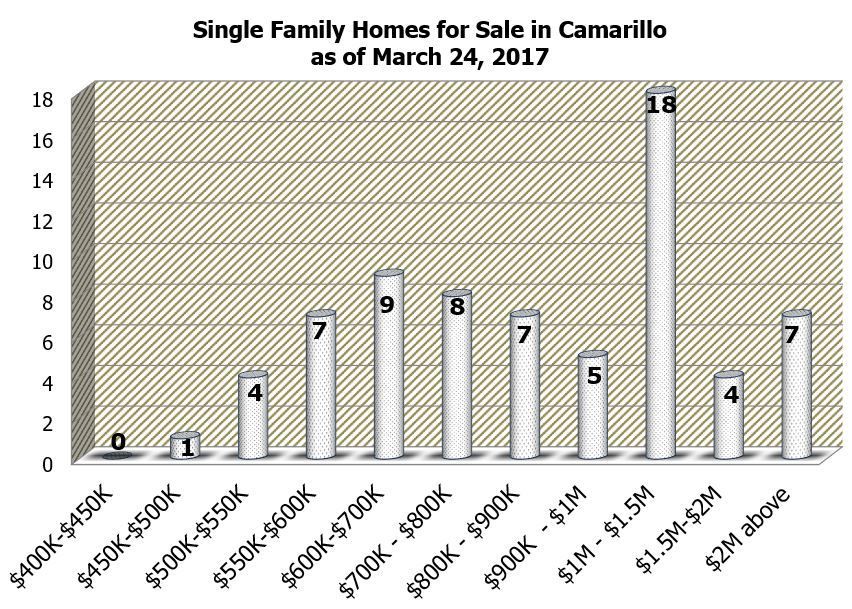 How difficult will it be to find a home in Camarillo in 2017?  
Understanding the Camarillo Real Estate Market is critical for a buyer when purchasing a home. This is one of the reasons I prepare the Camarillo Home Prices February 2017. This knowledge will help the buyer decide the best offer and terms for the local market. Inventory and Market Trends plays a big role in deciding just what to offer to secure your next home.
To put your best foot forward when making an offer on a Camarillo Single Family Home, you will need to rely on the experience of a local agent who knows the market well and has experience navigating this unique market.  
Although not every property attracts multiple offers, many of them do, so when you find a home you want to make yours, you'll need to be not only ready, willing and able to buy, you'll quite often need to do it quickly.  
Enter Your Text
Start your search for Camarillo Single Family Homes for Sale today to see what types of property are available, then give me a call to discuss what your best options are and how I can help you get positioned to find the Camarillo Home of your dreams.

Click Here!
Camarillo Homeowners thinking of Selling?
The Camarillo Home Prices February 2017 Report still shows our market as a Seller's Market because of limited inventory of homes for sale.
If you want to sell your home in Camarillo, call me and I can tell you how I'll get your home sold for top dollar and fast!
Camarillo Housing Market Summary for Single Family Homes
Average Sales Price:           $674,077

Median Sales Price:           $605,000

Number of Total Sales:                  34

Average Days on Market:              58

Average SP/LP:                       97.58%
I am often asked about how the Camarillo Housing Market is doing.
I hope you find the Camarillo Home Prices February 2017 Report helpful!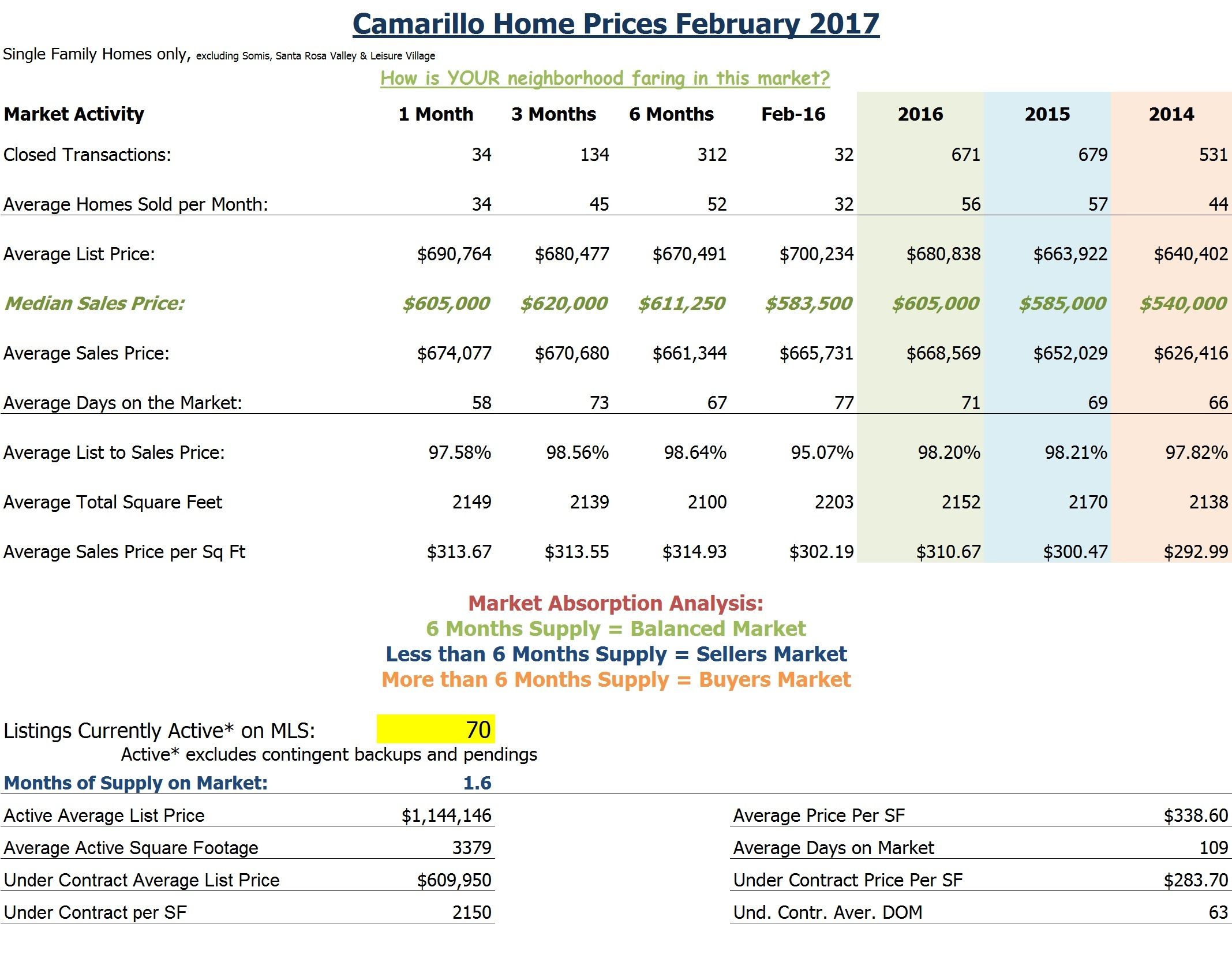 About the author: The above Real Estate information about Camarillo Home Prices February 2017 Report was provided by Kathy Stoltman.  
She can be reached by phone/text at 805-746-1793.
Kathy offers a wide range of real estate solutions for buyers, sellers and investors, attracting clients who demand excellence—in marketing, negotiations, market knowledge—and a genuine concern for their needs.
Kathy services all of Ventura County beautiful Cities: with an emphasis on Ventura, Oxnard, Camarillo and Ojai.
Statistics represent Camarillo Single Family Homes (Source: VCRDS) for the referenced month. Information (as 3/24/2017) is deemed reliable, but not guaranteed.