The Camarillo Condo Price Report March 2017 shows that the number of Camarillo Condos sold this month was up by 6 from last March or an increase of 66.67%. Let's look  into this report to see the rest of the numbers.
Buyers interested in downsizing to a more manageable, low-maintenance Condo, as well, as those looking to begin their Condo ownership journey, will want to check out  Condos for sale in Camarillo.
I will use the term Condos, short for Condominiums. Here locally, we use the terms Condos and Townhomes interchangeably.
The Camarillo Condo Price Report March 2017 shows us that the Median Price has increased slightly by .73% since last March.
The Median Sales Price is the point at which half of homes sold for more and half sold for less; it is influenced by the types of homes selling as well as a general change in values.
We also see from the illustration at the bottom of the page that the Average Camarillo Condo Price went up by 2.43% from last March and we also see that the Average Price for Camarillo Condos is up by 2.43% from what was cumulatively recorded for the prior 3 months.
Note: I do not include Leisure Village in this report. I separate this community out because it is a senior (55+) community.
Below is a graph of the Camarillo Condo Market Statistics for the last 6 months.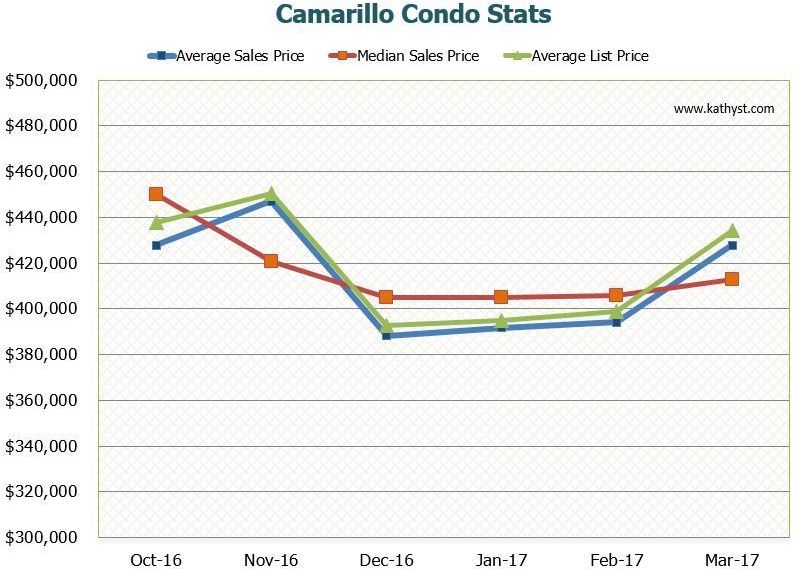 As of this post, written March 27, 2017, there are 14 Camarillo Condos for sale.
Below is the graph of the current inventory of Camarillo Condos. Only those Condos that do not have accepted offers on them at the time of this writing.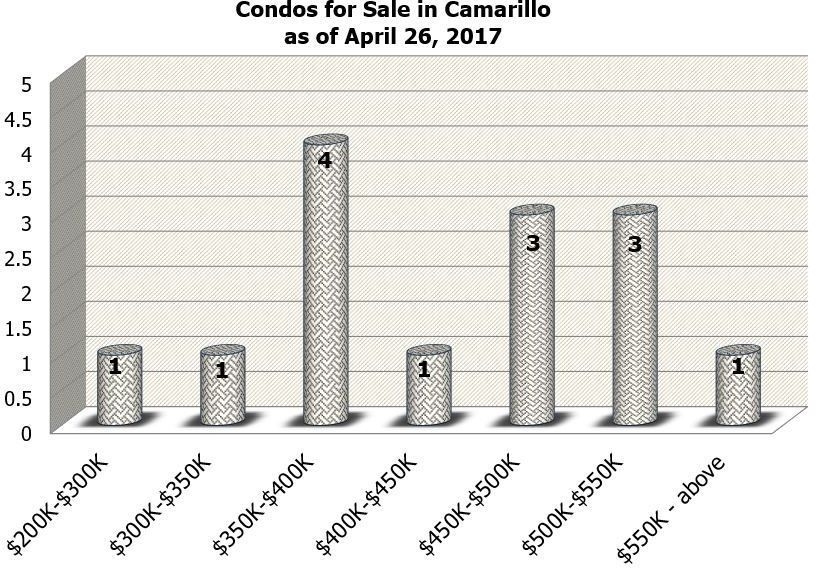 For those looking to purchase a Camarillo Condo, do any of the current Condos for sale interest you?
I can help you with the purchase of an Camarillo Condo.  
When you work with me, I will be your committed buyer's agent I will help you through the complicated maze of buying a Condo and will be there long after escrow closes to help you with any questions you may have. There is never a fee to work with me, not even a transaction fee!
If you are ready to buy a Condo in the Camarillo Area, I am ready to assist you on the amazing journey! Every client experience is vastly different and I love the challenge that each one brings.
I do understand the importance of educating Condo buyers on the local Real Estate Market as well as Camarillo Condo Market, so you can make the best decision when purchasing an Camarillo Condo.
I work hard to ensure you understand what is happening at each and every stage. You can be rest assured that I will focus on your needs, negotiate a fair price on the Condo of your choice, and be there to guide you through closing and beyond.
Search for Camarillo Condos
Contact me so I can guide you through the process of purchasing a Camarillo Condo
Click Here!
The Camarillo Condo market falls into the category of a Seller's Market, which means you as a Seller will have the upper hand with greater opportunities for price appreciation.  
Remember when the market turns to excess inventory, the price and timeline of selling your Condo can be affected adversely.  
Whether you're planning to sell your Condo in the next few months or just studying up for that eventuality, there's no time like now to prepare.
If buying a condo seems complicated, selling involves even more responsibilities and expenses.
I am often ask about the Camarillo Condo Market.
I hope this Camarillo Condo Price Report March 2017 helps you to understand the current Camarillo Condo Market.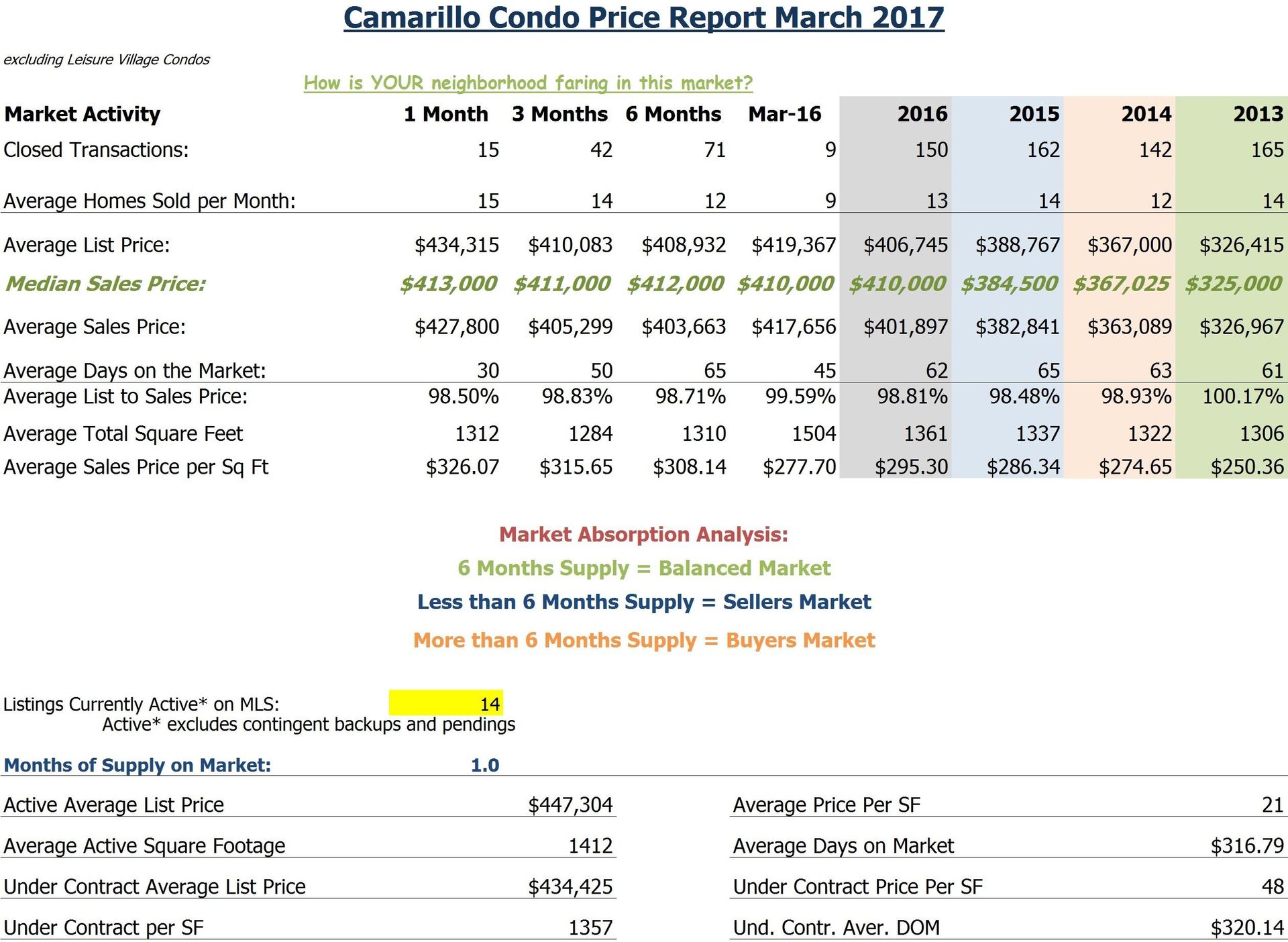 About the author: The above Real Estate information about Camarillo Condo Price Report March 2017 was provided by Kathy Stoltman.  
She can be reached by phone/text at 805-746-1793.  
Kathy offers a wide range of real estate solutions for buyers, sellers and investors, attracting clients who demand excellence—in marketing, negotiations, market knowledge—and a genuine concern for their needs.
Kathy services all of Ventura County beautiful Cities: with an emphasis on Ventura, Oxnard, Camarillo and Ojai.
Information is deemed to be reliable, but is not guaranteed. © 2017 MLS and FBS. Prepared by Kathy Stoltman on April 26, 2017